Throughout the eerily quiet desert in the outskirts of Scottsdale, Arizona, lurks a rising star ready to concoct a sandstorm into the vision of the competition. A mix of both furious speeds, coupled with an abundance of determination, has allowed the variance of pressure systems Jeremy Fappani has created to place the opposition in a whirlwind. Migrating from both his home base, to California, to further his career, it's apparent that Mr. Fappani is willing to do whatever necessary in order to place his best result. Admiring his determination, we sat down with Jeremy for a few minutes of his time, picking his brain, seeing just what makes him tick.
What attracted you to motocross in the early going? Speed? Competition? Jumping?
My older brother used to ride so I wanted to do everything he did. My dad threw me on a 50 with training wheels when I was 2. I always enjoyed the speed…. my dad said I was always trying to figure out how to make my bike go faster and jump my bike with the training wheels. Jumping has always been my favorite, even though my dad and trainers told me I needed to work more on my corner speed than jumps. Early on I always liked to do tricks. I remember my first race at a local track on my 50, I tried to pull a no handed lander on my last lap second to last jump, crashed and didn't finish the race. My dad laughs at me now but didn't think it was too funny at the time. Now its a lot more work than it used to be, but I still love the feeling that I have when I get on my bike.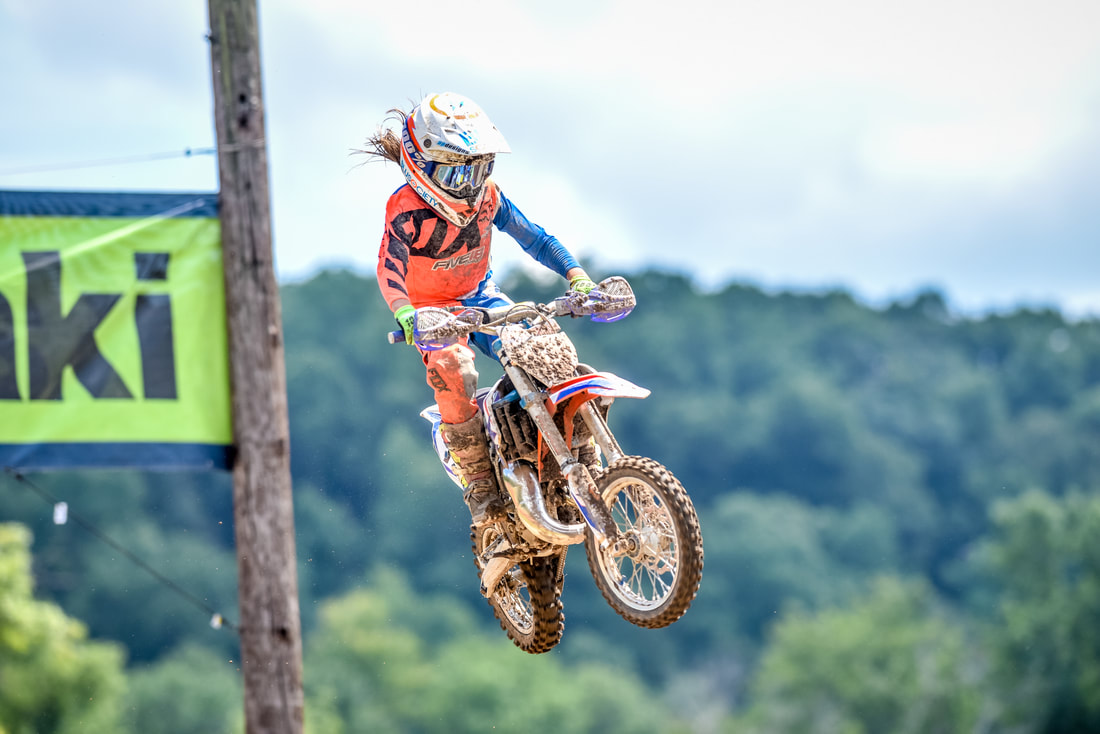 Who would you credit as your major influence in getting involved with this sport?
Definitely my mom and dad. One of my favorite riders is James Stewart, he always been a rider that I look up to and the style he has on a bike.
This Spring, you and your crew headed to the James Stewart Spring Championship; how do you feel that event went for you?
This was my 3rd year at Freestone. One of my favorite races for sure. I felt good on my bike but didn't get the results I was wanting. I knew I could do better.
Coming into your regional qualifiers, were you confident you could obtain the tickets to the ranch?
I got through my area qualifiers. Going into the regionals I was feeling good. I qualified for the 3 west coast regions. I was not able to go to the NW qualifier, so we headed to Hangtown. Which is one of my favorite tracks to race. My trainer Buddy Antunez was also there qualifying so he pitted with us. Having him race the same track alongside me, discussing track options really made me feel confident. Buddy has taught me a lot. Not just on my bike but how I think and prepare myself to race. I was so happy with my results and got my first #1 plate. It felt good to get my both of my tickets in the same weekend.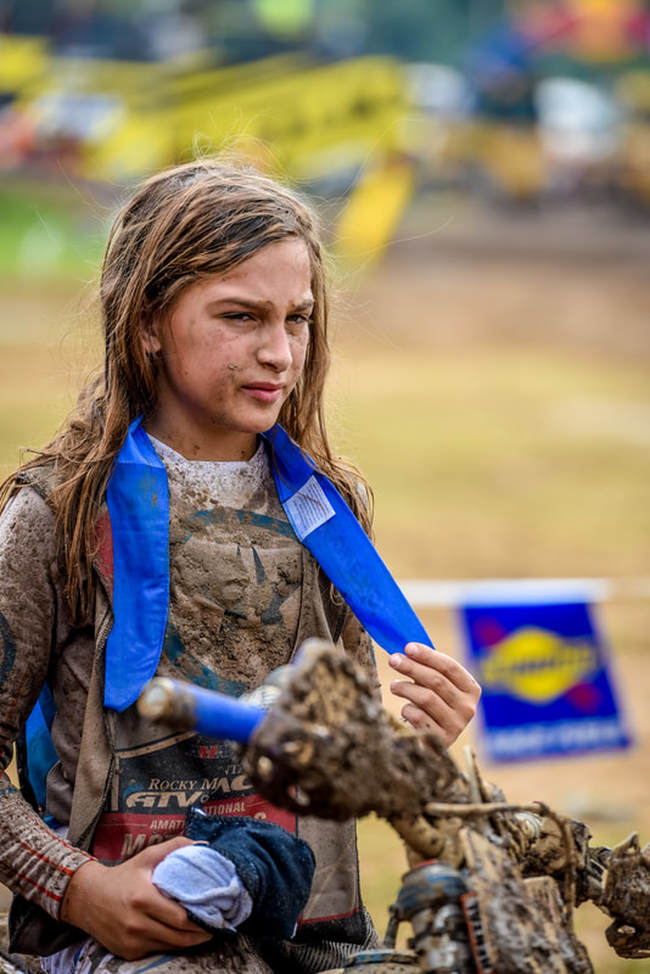 How enjoyable is the Mammoth event for you? Everyone seems to love that place.
This was my first time to go to Mammoth. Of course I had heard how much people like the race and the history of the track. My brother got to come to this race so it was a lot of fun having him with me. It always makes it fun when you have a successful race, but I really enjoyed Mammoth with my friends and family that were able to come and support me. To top it off I got a bear and 2 moto wins.
Prior to Loretta's, where were you doing your training? Some place local, or did you have to travel?
We travel all the time for my training. With Buddy in California, my mom and I spend a lot time time driving back and forth across the desert. I got out of school in May so I was able to ride in California on a weekly basis and spend my weekends at home. There is a track at my house too so I can stay on my bike when I'm home. On our way to Loretta's this year we stopped at Robbie Reynard's track to get sometime on my bike too.
Two top ten's at the biggest of the national of the year is applaud worthy; did you exceed your expectation in Tennessee?
Going to Loretta's this year I tried to have a different approach. The last 2 years I have been there I struggled and let the track beat me. This year I wanted to be consistent and solid. I wanted to race the track and not worry about who else is racing with me. My bikes ran great and being pulled under the tent when I was done racing felt good. I tried to have good starts and ride smart.

Now that we are heading into the slower portions of the year, what's next on your schedule? Any other nationals remaining?
This fall I'm going to race the Fly Amateur National at Hangtown, The Motoplayground race at Ponca City, the Mini Majors at Milestone and than I will go to the Ryan Villopoto Amateur Cup at Pala.
You've dabbled onto the 85cc up until now; are you now ready to be full-time on the bigger machine?
I feel I need to get better on my 85. I will continue to race my 65 but will put in the work on my 85 to get stronger.
For 2018, are there any significant changes headed your way? Classes? Training Locations? Sponsors?
Next year I will stick to what I have been doing. I will continue to spend as much time out in California training and putting in the laps. In 2017, I have had some great companies behind me. I want to keep getting better to represent my sponsors the best I can. My parents have always told me that its not how many sponsors you have, it's believing in the products and companies that support you.
Are you home-schooled? Or are you trying to juggle a hectic schedule of racing, combined with staying in a public school setting?
I'm in public school and work very hard to keep my grades up. My teachers and principle have always been very supportive of my racing and training schedule. I tutor often to stay caught up with my class. I do have a crazy schedule but so far its works and I'm happy that I can do what I love and stay in public school.
Off of the bike, how do you spend your down time? Any other sports? Hobbies?
When I'm not on my bike I always seem to be doing something on wheels. I like riding my One Wheel, skate board and my mountain bike. When we are out in California, I like going to the beach and boogie board. I want to learn how to surf too. We usually try to take a family trip once a year.
Any sponsor's you'd like to thank?
My mom is the one I have to thank the most for always getting me to my training and races when she has a full time job. My mechanic, Mike Mc Mullen "Bike Mike" has always been by my side since the beginning. He goes to every race with me and keeps my bikes on point. James Coy and Bones at Pro Circuit have helped me so much this year and keep my bikes set up just right. I would also like to thank the guys at 100%, Dunlop Tires, Bell Helmets and Garrett at Five18 Designs. Of course Blue Star Racing…. my Dad and brother Luca.
MOTOPLAYGROUND
DAILY BREAD BY / LOGAN MATTINGLY
IMAGES BY / JESS TEN HAGEN
9/27/2017